From http://edublogawards.com/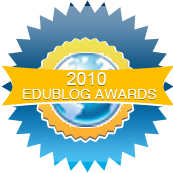 Welcome to the 2010 Edublog Awards.
Celebrating the achievements of edubloggers, twitterers, podcasters, video makers, online communities, wiki hosts and other web based users of educational technology.
Now into our 7th year!
And this year we're going to run the nominations for each category just the same as we did last year 🙂
In order to nominate blogs for the 2010 Edublog Awards you have to link to them first!
Nominations: Close Friday 3 December!
Voting: Ends Tuesday 14 December!
Award Ceremony: Wednesday 15 December!
Categories include:
Best individual blog
Best individual tweeter
Best group blog
Best new blog
Best class blog
Best student blog
Best resource sharing blog
Most influential blog post
Most influential tweet / series of tweets / tweet based discussion
Best teacher blog
Best librarian / library blog
Best school administrator blog
Best educational tech support blog
Best elearning / corporate education blog
Best educational use of audio
Best educational use of video / visual
Best educational wiki
Best educational podcast
Best educational webinar series
Best educational use of a social network
Best educational use of a virtual world
Best use of a PLN
Lifetime achievement
To learn more and to find out how you can nominate your favorite library and education blogs read the rest of the post at http://edublogawards.com/.